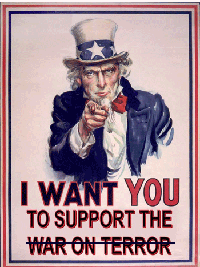 The Obama administration seems to be taking a different tack on the "global war on terror". Our world has run amok with the idiocy of watering down the truth with kinder, gentler, more "fair" words and terminology. These hyper-sensitivities have permeated nearly every aspect of our lives, to the extent that they now seem to provide more comic than emotional relief to those exposed to it.
In order to elevate garbage men, we call them "urban sanitation engineers". It's not abortion, it's "Pro-Choice". Not illegal aliens, but "migrant worker" or "temporary worker". Those of us who have found humor in such endeavors take it farther- short people are "vertically challenged". We have little league games where people no longer keep score, and grading systems in schools where they have done away with A through F, and replaced it with "objective" grading systems where the student can be WRONG about 2+2=4, but if they can expound on it with an explanation showing some form of semblence of rational thinking as to how the HELL they got to FIVE as the answer, well, they will get partial credit.
One would think we would be immune from such stupidity at the upper echelons of Government which deal with issues as serious as terror; terrorists; terror groups; states which sponsor terror. But no- Obama and his "fairness" brigade, fresh from a worldwide tour where they spent their time apologizing for America, are now undertaking the revamping of our "war on terror" lingo.
From here on out, we're going to go with- are you ready? "Overseas Contingency Operation". And, to top that, instead of "terror attack", let's go with "Man Caused" (or "Man Made") "Disasters". The jury seems to still be out on which one, but- the use of "terror" is just improper now.
Here are some man made disasters: fires; mine collapses; auto pileups; space shullte explosions; floods due to engineering failures; explosions; droughts due to poor management of resources… not planes into buildings for the purpose of killing people. That would be like changing the term "holocaust" or "genocide" to "category specific man caused population management".
Seriously. This is the bang for your buck that you got for "Change you can believe in".
First off, let me point out to our ignorant (intellectually challenged) imbecile democrats (intelligence deprived overgrown toddlers) that the war on terror, as it were, is NOT limited to "overseas" actions. Our borders and ports are very much an element of any plan to protect America from threats abroad. So is the internet, and our banking electronic communication systems, our power grids, nuclear plants, schools, etc… If they need any reminder of that vulnerability, they just need look at the New York skyline for what is missing. That "man caused disaster" did not happen "overseas", and future attacks will not be limited to "over there" either.
Secondly, to see two buildings of that stature be impaled by two commercial jetliners, and subsequently watch them implode and disintegrate, pulverizing some 2974 innocent human beings into pulp… anyone, and I mean ANYONE, trying to categorize that as a "man caused disaster" should be immediately removed from office and dragged to the darkest alley in New York.
These are the people appointed by Obama. They presumably have paid all their taxes, but apparently rank just above the Geico Cavemen in mental acuity. This is the President that 69 million people voted for (and nearly 60 million voted against.) These are the people with your borders and foreign policy under their guidance. This is the man who constantly says the American people rejected everything from the previous administration and voted for everything he and his ilk stand for in the last election.
This is the duplicitous talk you get, when you have an ignorant electorate gyrating on hype, without scrutinizing the substance of the man they are hoisting up. In fact, Obama himself may just turn out to be a 'man caused disaster', but we have to wait a while longer to see what happens next.
Now, I am off to get some info on the growing swine flu epidemic. Wait… let me rethink that, so I don't piss off the pigs and viruses… "Stout Bodied Omnivore Acute Febrile Virus Impairment". Wish me luck.